Andreas Katsulas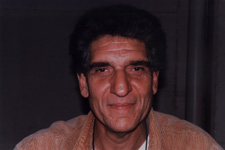 Narodil sa v St. Louis, Missouri, 18. m├íja 1948 v zmie┼íanej gr├ęcko-americkej rodine. U┼ż od detstva ho l├íkali divadl├í. Jeho matka ho prv├Żkr├ít zobrala do divadla u┼ż ke─Ć mal 4 roky. ┼átudoval na strednej ┼íkole v St. Louis, kde chodil aj na univerzitu, nesk├┤r ho prijali na herectvo na univerzite v Indiane.
Po skon─Źen├ş ┼ít├║di├ş sa Andreas bez v├íhania vrhol do sveta profesion├ílneho divadla. Hral v divadl├ích v St.Louis, New Yorku a tie┼ż v Bostone viac ne┼ż 3 roky. Potom 15 rokov p├┤sobil v medzin├írodnom divadelnom spolku Petra Brooksa, s ktor├Żm po celom svete hrali tzv. divadlo improviz├ície. Spolok predv├ídzal svoje hry na najr├┤znej┼í├şch miestach, od Lincolnovho Centra v New Yorku, Kennedyho Centra vo Washingtone a┼ż po jednoduch├ę ulice Brooklynu a mal├ę dediny v Afrike. Predstavili sa tie┼ż na divadelnom festivale v Ir├íne, Avignone a Belehrade. Hrali vo v├Ązeniach a psychiatrick├Żch domovoch; v Austr├ílii, Venezuele, ┼áv├ędsku, Ben├ítkach, na farme v Californii, v Minnesote s Indi├ínmi a to v ka┼żdom po─Źas├ş, snehu, da┼żdi a extr├ęmnych hor├║─Źav├ích. No nikdy nezru┼íili ┼żiadne predstavenie.
Nesk├┤r si Andreas zahral ├║lohu vo filme Michaela Cimina "Sicilian". Pres┼ąahoval sa do L.A., kde okam┼żite dostal ├║lohu Joeho Venzu vo filme Ridleyho Scotta "Someone To watch Over Me" a potom rolu Arthura, ┼íof├ęra, vo filme Blakea Edwardsa "Sunset".
V L.A. ┼żil od roku 1986, hral v seri├íloch a filmoch, ale v┼żdy d├║fal, ┼że raz sa m├┤┼że vr├íti┼ą k divadlu, ktor├ę bolo v┼żdy jeho srdcovou z├íle┼żitos┼ąou. Na ot├ízku ─Źi divadlo alebo film Andreas odpovedal: Oboje.
Andreas Katsulas zomrel 13. febru├íra 2006 po dlhom boji s rakovinou p─ż├║c. Dlh├Ż ─Źas intenz├şvne faj─Źil a to sa mu stalo osudn├Żm. Mal 59 rokov. Zanechal po sebe ┼żenu a dve deti.
Autor: lony5
Filmografia:
Splinter Cell: Double Agent (2006) (VG) (hlas) .... ostatn├ę hlasy
24: The Game (2006) (VG) (hlas) .... guvern├ęr Radford
Primal (2003) (VG) (hlas) .... Scree/Abdizur
Babylon 5: The Legend of the Rangers: To Live and Die in Starlight (2002) (TV) .... G'Kar
Piece of Eden, A (2000) .... Giuseppi Tredici
Jane Austen's Mafia! (1998) .... Narducci
... in├Ż n├ízov Mafia! (1998) (USA: skr├íten├Ż n├ízov)
Babylon 5: In the Beginning (1998) (TV) .... G'Kar
Path to Paradise: The Untold Story of the World Trade Center Bombing (1997) (TV) .... Sheik Omar Abdel-Rahman
... in├Ż n├ízov Path to Paradise (1997) (TV)
New York Cop (1996) .... Ferrara
Executive Decision (1996) .... El Sayed Jaffa
... in├Ż n├ízov Critical Decision (1996)
Star Trek: The Next Generation - All Good Things... (1994) (TV) .... komand├ęr Tomalak
"Babylon 5" (1994) TV Series .... G'Kar
Hot Shots! Part Deux (1993) .... Rufshaad
Fugitive, The (1993) .... Frederick Sykes ('jednoruk├Ż mu┼ż')
Babylon 5: The Gathering (1993) (TV) .... G'Kar
Seduction: Three Tales from the 'Inner Sanctum' (1992) (TV) .... Frank
Blame It on the Bellboy (1992) .... Scarpa
True Identity (1991) .... Anthony
Write to Kill (1990) .... Chambliss
Murder Times Seven (1990) (TV) .... Marco Volatile
... in├Ż n├ízov Murder x 7 (1990) (TV)
Death of the Incredible Hulk, The (1990) (TV) .... Kasha
Neon Empire, The (1989) (TV) .... Vito
Communion (1989) .... Alex
Next of Kin (1989) .... John Isabella
Steal the Sky (1988) (TV) .... plukovn├şk Gemayel
Sunset (1988) .... Arthur, Alperin's Chauffeur
Sicilian, The (1987) .... Passatempa
Someone to Watch Over Me (1987) .... Joey Venza
"Max Headroom" (1987) TV Series .... Bartlett
... in├Ż n├ízov "Max Headroom: 20 Minutes Into the Future" (1987) (USA)
Agent on Ice (1985) .... Ray Donnelli
Nothing Lasts Forever (1984) .... pozorovate─ż v Lunar Shopping
King of America (1982) (TV) .... Markos
"Guiding Light, The" (1952) TV Series .... Lucien Goff (1982)
Ragtime (1981) .... policajt #3
Milo-Milo (1979) .... Nicolos
... in├Ż n├ízov Idou i Milos, idou kai to pidima (1979) (Greec
S├ęrie noire (1979) .... Andreas Tikides
Ved─żaj┼íie ├║lohy v seri├íloch:
"NYPD Blue" .... "Ron Szudarek" v epiz├│de: "Shear Stupidity" (# 11.3)
"Enterprise" .... "vissiánsky kapitán" v epizóde: "Cogenitor" (# 2.22)
"Millennium" .... "Moses Gourevitch" v epiz├│de: "Forcing the End" (# 3.15)
"Real Adventures of Jonny Quest, The" .... "Stephano DePace"(hlas) v epiz├│de: "Robot Spies, The" (# 2.25)
"Star Trek: The Next Generation" .... "komand├ęr Tomalak" v epiz├│de: "All Good Things" (# 7.25)
"Diagnosis Murder" .... "DEA agent" v epiz├│de: "Plague, The" (# 1.18)
"Murder, She Wrote" .... "Jerry Pappas" v epiz├│de: "Killing in Vegas, A" (# 8.8)
"Star Trek: The Next Generation" .... "komand├ęr Tomalak" v epiz├│de: "Future Imperfect" (# 4.8)
"Hunter" .... "George Malitza" v epiz├│de: "Deadly Encounters (Part 2)" (# 7.2)
"Hunter" .... "George Malitza" v epiz├│de: "Deadly Encounters (Part 1)" (# 7.1)
"Mancuso, FBI" v epiz├│de: "Ahami Awry Kidnapped" (# 1.12)
"Jake and the Fatman" .... "Everett Ashford" v epiz├│de: "You Turned the Tables on Me" (# 3.13)
"Star Trek: The Next Generation" .... "komand├ęr Tomalak" v epiz├│de: "Defector, The" (# 3.10)
"Alien Nation" .... "Koulak" v epiz├│de: "Game, The" (# 1.9)
"Star Trek: The Next Generation" .... "komand├ęr Tomalak" v epiz├│de: "Enemy, The" (# 3.7)
"Father Dowling Mysteries" .... "asistent okresn├ęho prokur├ítora Douglas" v epiz├│de: "Mafia Priest Mystery, The (in├Ż n├ízov Renegade Priest Mystery, The (1))" (# 1.5)
"Houston Knights" v epiz├│de: "Cajun Spice" (# 2.16)
"Equalizer, The" .... "Warren Briggs" v epiz├│de: "Video Games" (# 3.14)
↑ Hore