Richard Biggs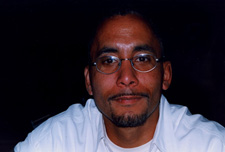 Narodený:
18. marca 1961, Columbus, Ohio, USA
Zomrel:
22. mája 2004, Los Angeles, California, USA
Rodina:
manželka Lori Gerber, synovia Hunter (2) a Richard James III (4), štyri sestry
Rodičia:
Richard a Delores Biggsová (Spokane, Washington)
Adresa fanklubu:
The Richard Biggs Fan Club, c/o Shirley Didemoico, 1133 Uptegraf Street, Pittsburgh, PA 15218
Odkazy:


Narodil sa v Columbuse v Ohiou. Richard objavil nadšenie pre herectvo na strednej škole po účinkovaní v spoločenstve produkujúcom "The Wiz". Získal štipendium na USC School of Theatre, kde sa venoval umeniu. Zatiaľ čo bol na fakulte, učil herectvo na 32nd Street Magnet School blízko areálu USC a neskôr na Will Geer Theatricum Botanicum v Topange. Nakoniec vynašiel vlastný učebný plán, ktorý ponúkal školám po celej krajine.
Slabo počujúci od detstva, Richard venoval väčšinu času mimo kamery získavaniu peňazí pre súkromnú Orange County School, ktorá slúži hluchým a slabo počujúcim.
V roku 1997 bol pozvaný na benefičné predstavenie "Love Letters" od A. R. Gurneyho v Irvine Barclay Theatre. Výťažok šiel na Rancho Viejo, školu pre hluchých a slabo počujúcich v Rancho Santa Margarita.
Ďaľší rok Richard priviedol väčšinu hercov z "Babylonu 5" do školy na ďalšiu dobročinnú udalosť, ktorá prilákala fanúšikov z celej krajiny. Tiež predal svoje obrázky s autogramom na sci-fi zhromaždeniach, ktoré často navštevoval a výťažky dával škole, takže si mohla kúpiť ihrisko a ďalšie vybavenie.
Jeho vlastné sluchové problémy mu diagnostikovali v trinástich. Úplne hluchý na jedno ucho a čiastočne na druhé, Richard nosil načúvací prístroj a naučil sa posunkovú reč ako dospely, keď mu doktori povedali, že jedného dňa môže sluch stratiť úplne.
Richard stvárnil Dr. Stephena Franklina v sci-fi seriáli "Babylon 5", ktorý sa v rokoch 1991-8 vysielal v sieti TNT. Taktiež hral 5 rokov doktora v seriáli "Days of Our Lives" stanice NBC. Nedávno sa objavil v drámach kanálu Lifetime s názvami "Any Day Now" a "Strong Medicine" a získal priaznivé javiskové recenzie v Los Angeleskej produkcii Shakespearovho diela "Lear" a vojnovej hre o Vietname "Tracers" od Johna DiFuscoa.
Richard Biggs zomrel 22. mája 2004 po náhlom kolapse v svojom dome v San Fernando Valley. Príčinou smrti bola mŕtvica. Viac info nájdete tu.
Jeho rodina založila univerzitný fond pre jeho synov. Príspevky môžete posielať na Benefit of the Children of Richard Biggs II, c/o Washington Mutual Bank, 840 N. San Fernando Blvd., Burbank, CA 91502.
Filmografia:
Starship II: Rendezvous with Ramses (2010) (post-produkcia) .... seržant Franklin
Invasion: Anime (2002)
"Guiding Light, The" (1952) TV Series .... Clayton Boudreaux (2001-2004)
... iný názov "Guiding Light" (1978) (USA: nový názov)
Ablaze (2001) .... Garrison
Babylon 5: The River of Souls (1998) (TV) .... Stephen Franklin, M.D.
Forever Love (1998) (TV) .... Dr. Berris
Babylon 5: Thirdspace (1998) (TV) .... Stephen Franklin, M.D.
Babylon 5: In the Beginning (1998) (TV) .... Stephen Franklin, M.D.
Alien Within, The (1995) (TV) .... Hawkes
... iný názov Unknown Origin (1995) (TV)
"Babylon 5" (1994) TV Series .... Dr. Stephen Franklin
One Stormy Night (1992) (TV) .... Marcus Hunter
... iný názov Days of Our Lives: One Stormy Night (1992) (TV) (USA)
"Days of Our Lives" (1965) TV Series .... Marcus Hunter (1987-1992)
Walk Like a Man (1987) .... predavač
Fighting Choice, A (1986) (TV) (ako Rick Biggs) .... doručiteľ predvolania
Autor:
Biggs and Carter Experience, The (2004) (V)
Producent:
Biggs and Carter Experience, The (2004) (V) (producent)
Sám seba:
Biggs and Carter Experience, The (2004) (V) .... (sám seba)
Archívne zábery:
Babylon 5: The Lost Tales (2007) (V) .... Stephen Franklin
11th Annual Screen Actors Guild Awards (2005) (TV) .... sám seba - Memorial Tribute
Vedľajšie úlohy v seriáloch:
"Drake & Josh" .... "FBI agent" v epizóde: "The Gary Grill"
"Strong Medicine" .... "Dr. Morton" v epizóde: "Fractured" (# 5.5)
"Strong Medicine" .... "Dr. Morton" v epizóde: "Cape Cancer"
"Strong Medicine" .... "Dr. Morton" v epizóde: "Quarantine" (# 4.22)
"Strong Medicine" .... "Dr. Morton" v epizóde: "Seize the Day" (# 4.17)
"Strong Medicine" .... "Dr. Morton" v epizóde: "Prescriptions" (# 4.16)
"Strong Medicine" .... "Dr. Morton" v epizóde: "Love and Let Die"
"Strong Medicine" .... "Dr. Morton" v epizóde: "Maternal Mirrors" (# 4.11)
"Strong Medicine" .... "Dr. Morton" v epizóde: "Bad Liver" (# 4.10)
"Strong Medicine" .... "Dr. Morton" v epizóde: "Tempertures Rising" (# 4.8)
"Strong Medicine" .... "Dr. Morton" v epizóde: "Vaccinations" (# 4.7)
"Strong Medicine" .... "Dr. Morton" v epizóde: "Heartbeats and Deadbeats" (# 4.3)
"Tremors" .... "Roger Garrett" v epizóde: "Water Hazard"
"Tremors" .... "Roger Garrett" v epizóde: "Flora or Fauna"
"Crossing Jordan" .... "Dr. Flynn" v epizóde: "All the News Fit to Print" (# 3.9)
"Strong Medicine" .... "Dr. Morton" v epizóde: "Emergency Contact" (# 4.2)
"Strong Medicine" .... "Dr. Morton" v epizóde: "Intensive Care" (# 3.19)
"ER" .... "Bruce Storchester" (uncredited) v epizóde: "No Strings Attached" (# 9.14)
"NYPD Blue" .... "Sgt. Raymond Snider" v epizóde: "Arrested Development" (# 10.12)
"CSI: Crime Scene Investigation" (2000) .... "Andersonov advokát" v epizóde: "Fight Night" (# 3.7)
"JAG" v epizóde: "Ready or Not" (# 8.8)
"Strong Medicine" .... "Dr. Morton" v epizóde: "Compassionate Release" (# 3.5)
"Strong Medicine" .... "Dr. Morton" v epizóde: "Outcomes" (# 3.2)
"Touched by an Angel" .... "George" v epizóde: "Impossible Dream, The" (# 8.20)
"V.I.P." .... "Griffin" v epizóde: "Vallery's Secret" (# 2.15)
"Beverly Hills, 90210" .... "Dr. Lecksis" v epizóde: "You Better Work" (# 10.3)
"Crusade" .... "Dr. Stephen Franklin" v epizóde: "Each Night I Dream of Home" (# 1.13)
"Any Day Now" .... "Bill Moody" v epizóde: "It's Your Problem, Not Mine"
"Diagnosis Murder" .... "počítačový konzultant Mr Rogin" v epizóde: "Murder x 4" (# 6.10)
"Twilight Zone, The" .... "nemocničný lekár" v epizóde: "Toys of Caliban, The" (# 2.10)
"T.J. Hooker" .... "Frawley" v epizóde: "Chicago Connection, The" (# 4.72)
↑ Hore