Ostatn├ę lode
V univerze Babylonu 5 mo┼żno n├íjs┼ą tie┼ż lode, ktor├ę sa na obrazovk├ích neobjavili, ale s├║ spomen├║t├ę v r├┤znych pr├şbehoch ─Źi hr├ích.
Torp├ędoborec Altarian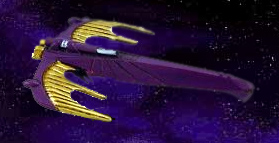 Vra┼żedn├ę plavidlo s zasl├║┼żenou reput├íciou. Altarian je star┼í├ş dizajn zasv├Ąten├Ż trom ─Źasticov├Żm kan├│nom zdobiacim jeho trup. Zatia─ż ─Źo vedeck├í div├şzia centaurskej arm├ídy prestala pracova na ─Źasticovo zalo┼żen├Żch zbraniach u┼ż pred desa┼ąro─Źiami, zbrane na Altariane a ostatn├Żch dizajnoch funguj├║ st├íle ve─żmi efekt├şvne. S├║ zalo┼żen├ę na princ├şpoch ┼ítiepnej indukcie a neefekt├şvne z h─żadiska energetick├ęho v├Żkonu, ale maj├║ zni─Źuj├║ci efekt v boji.
Nosi─Ź Balvarian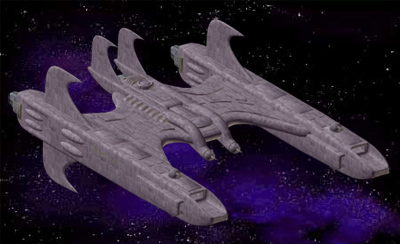 Jedna z najv├Ą─Ź┼í├şch lod├ş vo flotile je efekt├şvnou bojovou lo─Ćou schopnou veli┼ą celej bitke v─Ćaka svojmu senzorov├ęmu po─żu. V skuto─Źnosti jej d├ívaj├║ niektor├ş admir├íli flot├şl prednos┼ą pred Primus alebo Octurionom, ke─Ć si vyberaj├║ velite─żsk├║ lo─Ć. Ke─Ć Balvarian vypust├ş svoj st├şhac├ş kontingent, m├┤┼że zmeni┼ą priebeh boja v prospech Centauri.
├Üto─Źn├Ż kr├ş┼żnik Centurion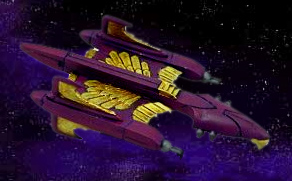 Relat├şvne mal├í lo─Ć na svoju triedu. Svoju reput├íciu si zasl├║┼żila v─Ćaka mnoh├Żm r├Żchlym, smrte─żn├Żm ├║derom na nepriate─żskom ├║zem├ş, ktor├ę 300-ro─Źn├║ existenciu dizajnu podnikla. Najnov┼íie lode tejto triedy s├║ vybaven├ę bojov├Żmi lasermi a ├║ctyhodn├Żm ─Źasticov├Żm kan├│nom, ktor├Ż m├í tie┼ż trieda Altarian. Centurion koncentruje v├Ą─Ź┼íiu palebn├║ silu v o nie─Źo men┼íom trupe ne┼ż Altarian, ale nem├í tak├Ż dolet a mus├ş sa tak uspokoji┼ą s kr├ítkymi pot├Ż─Źkami ne┼ż dlh┼íietrvaj├║cimi ┼ąa┼żeniami.
Prieskumn├şk Covran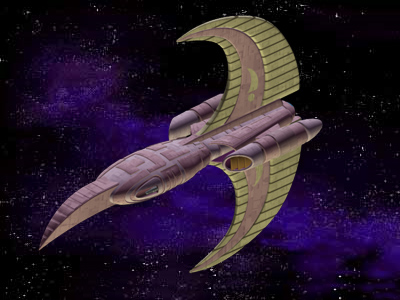 Jedna z najmen┼í├şch plne akt├şvnych lod├ş v centaurskej flotile. Covran je ─żahko vyzbrojen├ę, dobre chr├ínen├ę plavidlo s jedin├Żm ├║─Źelom, ktor├Żm je vykon├ívanie prieskumu. Je to lo─Ć s najlep┼íou maskovacou technol├│giou, akou Centauri vyrobili a hoci nie je celkom nevystopovate─żn├ę, je st├íle dos┼ą dobre unikn├║┼ą v├Ą─Ź┼íine senzorom.
├Üdern├Ż kr├ş┼żnik Dargan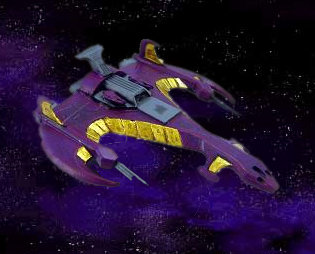 Dargan je star├Ż dizajn navrhnut├Ż na r├Żchly ├║tok. Je postaven├Ż na klasickom centaurskom dizajne r├ímu. Dargan je r├Żchly, pohybliv├Ż a nesie dostatok palebnej sily, aby mal jeho bleskov├Ż ├║tok zmysel. Nie je to najlep┼íie vyzbrojen├Ż kr├ş┼żnik vo flotile, ale je ur─Źite najr├Żchlej┼í├ş. Mnoh├ę pevnostn├ę flotily pou┼ż├şvaj├║ Dargan ako podporu a prv├║ ├║to─Źn├║ vlnu; jeho schopnos┼ą by┼ą tam kde ho potrebuj├║ ke─Ć ho potrebuj├║ zachr├ínila nejeden svet pred vydrancovan├şm n├íjazdn├şkmi. Jeho st├şhac├ş kontingent je tie┼ż cenn├Żm pr├şnosom v ka┼żdej bitke.
R├Żchly ├║to─Źn├Ż kr├ş┼żnik Darkner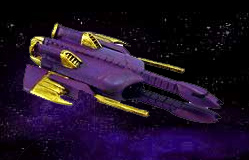 Je len o nie─Źo v├Ą─Ź┼í├ş ne┼ż Covran. Darkner sl├║┼żi v─Ćaka svojej r├Żchlosti a pohyblivosti ako r├Żchle eskortn├ę a ├║to─Źn├ę plavidlo. Jeho zbrane s├║ p├┤sobiv├ę ale nie zdrcuj├║ce; zvy─Źajne bojuj├║ vo dvojici, aby sa kryli navz├íjom a poskytli tak s├║streden├║ pa─żbu na v├Ą─Ź┼íieho nepriate─ża.
┼Ąa┼żk├í vojnov├í lo─Ć Demos
Smrte─żn├ę prekvapenie pre nepriate─ża, ktor├Ż sa nech├í oklama┼ą jeho vonkaj┼íou podobnos┼ąou s Vorchanom. Demos nesie na centaursk├║ lo─Ć nezvy─Źajn├ę zbrane - odpa─żova─Ź balistick├Żch torp├ęd so ┼íiestimi neuverite─żne siln├Żmi hlavicami. Jeho zvy┼ín├ę zbrane z neho robia smrtiacu a siln├║ lo─Ć v republikovej flotile. Demos sa pou┼ż├şva v situ├íci├ích, ktor├ę nevy┼żaduj├║ aby ├║tok viedol Primus, ale je potrebn├í ve─żk├í palebn├í sila.
Hliadkov├Ż ─Źln Haven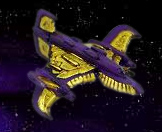 Mal├í lo─Ć poveren├í ve─żkou zodpovednos┼ąou, Haven je cennou lo─Ćou pre ka┼żd├Ż syst├ęma flotilu, ke─Ć┼że hliadkuje v hlavn├Żch svetoch Republiky v neust├ílom stave ostra┼żitosti. Pos├ídky Havenu s├║ r├┤zne: mnoh├ę s├║ obozretn├ę a upozor┼łuj├║ na ka┼żd├ę nebezpe─Źenstvo, ktor├ę m├┤┼że ohrozi┼ą oblas┼ą, zatia─ż ─Źo druh├ę po─Źas celej svojej slu┼żby nikdy nevidia nepriate─ża. Admiralita za─Źala ned├ívno meni┼ą pos├ídky, aby u v┼íetk├Żch dosahovala ostra┼żitos┼ą po┼żadovan├║ ├║rove┼ł.
Delov├í lo─Ć Kutai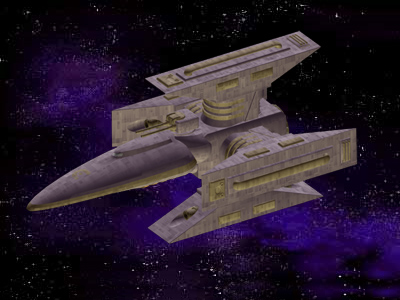 Dizajn tejto lode je zalo┼żen├Ż na mimozemskej technol├│gii, ktor├í ovlyvnila tvar lode, nesk├┤r bola kompletne prebudovan├í pou┼żit├şm centaursk├Żch materi├ílov a vybavenia. Kutai je smrte─żn├ę plavidlo s dostatkom zbran├ş, aby ovplyvnilo priebeh boja, ale ─Źastej┼íie sa pou┼ż├şva na podporu v├Ą─Ź┼í├şch lod├ş ne┼ż na samostatn├ę napadanie nepriate─ża.
Z├ísobovacia lo─Ć Lias
Lode triedy Lias s├║ be┼żnou s├║─Źas┼ąou ka┼żdej vojenskej z├íkladne a orbit├ílnej platformy v Republike. Tieto z├ísobovacie a dozbrojuj├║ce lode s├║ na svoju ├║lohu dobre vyzbrojen├ę, ale to im z├írove┼ł umo┼ż┼łuje zapoji┼ą sa do boja, ─Źo ─Źasto kon─Ź├ş ich zni─Źen├şm. Velenie flotily zva┼żovalo odstr├ínenie dvoch z jej spojen├Żch palebn├Żch pol├ş aby zistila, ─Źi to jej pilotov presved─Ź├ş vyh├Żba┼ą sa bojom, ale Admiralita bola toho n├ízoru, ┼że by iba r├Żchlej┼íie zomierali.
Obranná fregata Maximus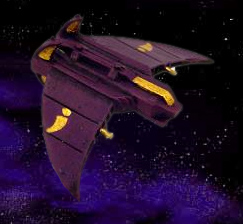 Flotila na obranu syst├ęmu, tak sa prez├Żva t├íto lo─Ć, najm├Ą pre ├║spe┼ín├ę vytla─Źenia ├║to─Źn├Żch s├şl zo syst├ęmov Republiky. V├Żborne navrhnut├ę obrann├ę plavidlo s dostato─Źnou palebnou silou, aby zamestn├ívalo nepriate─żov tak dlho, k├Żm nedoraz├ş pomoc od zvy┼íku flotily. T├║to schopnos┼ą a svoju cenu preuk├ízalo u┼ż v stovk├ích pr├şpadov.
Fregata Mograth
─Äal┼íia lo─Ć zalo┼żen├í na mimozemskej technol├│gii a dizajne. Mograth obsahuje zbrane, ktor├ę sa Centaursk├í republika zna┼żila zreplikova┼ą viac ne┼ż 50 rokov. Lode tejto triedy s├║ ojedinel├ę a cenn├ę kv├┤li svojim plazmov├Żm zbraniam a m├ílokedy sa zap├íjaj├║ do ┼ąa┼żk├Żch bojov. Ale ke─Ć sa vy┼żaduje jej ┼ípeci├ílna palebn├í sila, s├║ lode poskytnut├ę bez zav├íhania.
Bojov├í lo─Ć Octurion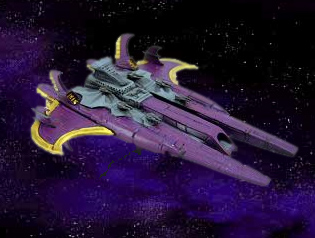 Octurion je obrovsk├í lo─Ć, najv├Ą─Ź┼íia z centaurskej flotily a m├í mnoho ├║loh. Je to mobiln├í palebn├í z├íklad┼ła, lo─Ć pre planet├írne bombardovanie, velite─żsk├ę centrum pre cel├║ bojov├║ skupinu a ─Źoko─żvek in├ę, ─Źo jeho palebn├í sila a pomocn├ę syst├ęmy zvl├ídnu. Pr├ştomnos┼ą lode tejto triedy v oblasti z nej automaticky rob├ş veliacu lo─Ć flotily; je vz├ícne vidie┼ą dve tak├ęto lode v jednej bitke, ale ke─Ć sa tak stane, velite─żom sa st├íva najvy┼í┼í├ş veliaci d├┤stojn├şk z oboch lod├ş.
Prepadov├Ż raketopl├ín Larisi
Raketopl├ín prev├í┼żadn├Ż na ├║to─Źnom kr├ş┼żniku triedy Secondus schopn├Ż letu v atmosf├ęre aj vesm├şre. Pred prist├ít├şm vy─Źist├ş prist├ívaciu z├│nu pa─żbou svoj├şch zbran├ş, vylo┼ż├ş pechotu a okam┼żite odlet├ş do relat├şvneho bezpe─Źia vesm├şru sk├┤r, ne┼ż ho zastihne odvetn├í pa─żba. Larisi s├║ snom ka┼żd├ęho pilota a ka┼żd├Ż rok sa uskuto─Źn├ş mno┼żstvo s├║┼ąa┼ż├ş, kde sa rozhoduje, kto sa dostane na vyt├║┼żen├ę (a vz├ícne) miesto uvo─żnen├ę miesta pilota tohto raketopl├ínu.
─Żahk├Ż st├şha─Ź Razik
Najr├Żchlej┼íia st├şha─Źka v centaurskej flotile a takmer dvakr├ít tak pohybliv├í ako stredn├í st├şha─Źka Sentri. Razik je r├Żchla ├║to─Źn├í st├şha─Źka pou┼ż├şvan├í na zamestnanie v├Ą─Ź┼í├şch lod├ş s malou mo┼żnos┼ąou op├Ątova┼ą pa─żbu na nie─Źo tak mal├ę a r├Żchle. Razik je tie┼ż v├Żborn├Ż v s├║boji s inou st├şha─Źkou a mnoho 'leteck├Żch es' str├ívi v├Ą─Ź┼íinu ─Źasu pr├íve v tejto st├şha─Źke alebo lietaj├║ v├Żlu─Źne v nej.
├Üdern├Ż st├şha─Ź Rutharian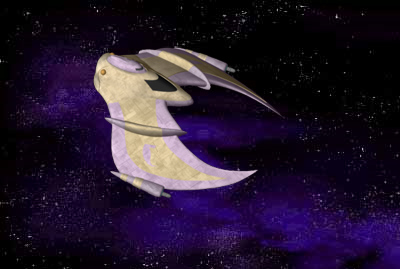 T├íto st├şha─Źka je ┼ąa┼ż┼íia a pomal┼íia ne┼ż Sentri, ale naopak m├í v├Żhodu lep┼íieho pancierovania a obrann├Żch syst├ęmov. V boji proti v├Ą─Ź┼í├şm lodiam je Rutharian v├Ą─Ź┼íinou ove─ża efekt├şvnej┼í├ş ne┼ż Senti, hlavne v─Ćaka lep┼í├şm zbraniam a spom├şnan├ęmu pancierovaniu. Z├ísah, ktor├Ż by Sentri roztrhal na kusy, sp├┤sob├ş Rutharianu len po┼íkodenie a m├í dostatok ─Ćal┼í├şch syst├ęmov, aby zostal efekt├şvny aj po ─Ćal┼í├şch z├ísahoch.
Prepadov├Ż kr├ş┼żnik Secondus
Dizajn Primusu bol od svojho po─Źiatku pou┼żit├Ż na mnoho experimentov s nov├Żm vybaven├şm a zbra┼łami, ale ┼żiadny nebol tak├Ż ├║spe┼ín├Ż a popul├írny u pos├ídky ako Secondus. Planet├írne ├║to─Źn├ę plavidlo Republiky mus├ş by┼ą doprev├ídzan├ę silnou eskortou, preto┼że nem├í ┼ąa┼żk├║ v├Żzbroj, ale akon├íhle sa dostane na dosah inkriminovanej plan├ęty, m├┤┼że ju zbombardova┼ą z orbity a potom vypusti┼ą 12 ├║to─Źn├Żch raketopl├ínov Larisi plne nalo┼żen├ę pechotou a po─żn├Żm delostrelectvom na vy─Źistenie neporiadku.
Eskortn├Ż torp├ędoborec Sulust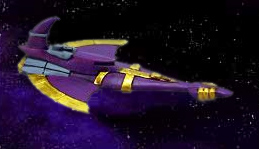 V boji proti Centaurom sa mnoho r├ís nau─Źilo chr├íni┼ą svoje najcennej┼íie velite─żsk├ę lode men┼í├şmi eskortn├Żmi. To ochr├ínilo velite─żsk├║ lo─Ć pred siln├Żmi ─Źasticov├Żmi delami a bojov├Żmi lasermi centaursk├Żch lod├ş. Rad┼íej ne┼ż str├íca┼ą ─Źas a energiu ni─Źen├şm t├Żchto men┼í├şch plavidiel so zbra┼łami bojov├Żch lod├ş a kr├ş┼żnikov, s├║ povolan├ę eskortn├ę torp├ędoborce. Tie maj├║ za ├║lohu rozbi┼ą tieto obrann├ę l├şnie a vytvori┼ą priestor, aby sa s prim├írnymi cie─żmi mohli por├íta┼ą v├Ą─Ź┼íie zbrane. Sulust je naj├║spe┼ínej┼í├şm dizajnom eskortn├Żch torp├ędoborcov, ktor├Ż centaursk├í flotila pou┼ż├şva.
↑ Hore