Ostatn├ę lode
V univerze Babylonu 5 mo┼żno n├íjs┼ą tie┼ż lode, ktor├ę sa na obrazovk├ích neobjavili, ale s├║ spomen├║t├ę v r├┤znych pr├şbehoch ─Źi hr├ích.
Z├ísobovacia lo─Ć Arcismus
┼Żiadna z t├Żchto lod├ş sa nedostala do priameho boja, na to je Arcismus slabo vyzbrojen├Ż. Av┼íak pre Re┼żim je ve─żmi d├┤le┼żit├Ż, zast├íva ├║lohu hlavn├ęho z├ísobovacieho plavidla na narnsk├ę kol├│nie, z├íkladne a vojensk├ę lode. Arcismus sa ─Źasto pres├║va cez nepriate─żsk├ę ├║zemie. Hoci je slabo vyzbrojen├Ż, m├í ┼ípeci├ílnu zbra┼ł jedine─Źne sa hodiacu jeho ├║lohe - v├Żbu┼ín├Ż l├║─Ź. Magneticky chr├ínen├Ż f├║zny pulz nesp├┤sobuje zasiahnut├ęmu cie─żu ┼żiadnu ┼íkodu, ale sp├┤sobuje rovnak├Ż efekt ako ┼ąa┼żk├í energetick├í m├şna.
Raketová fregata Dag'Kar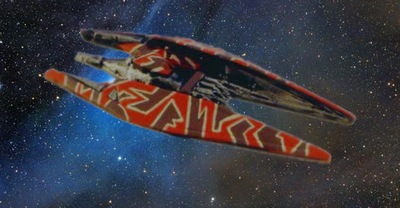 Lo─Ć s neuverite─żne ni─Źiv├Żm potenci├ílom sa m├ílokedy vracia z ve─żk├Żch bojov a je pova┼żovan├í za druh├║ najdrah┼íiu lo─Ć v n├ímorn├şctve Re┼żimu kv├┤li vysok├ęmu percentu opotrebenia. D├┤vod, pre─Źo sa m├ílokedy vracia je, ┼że na neho nepriatelia zah├íja pa─żbu hne─Ć ako ho uvidia, aj ke─Ć su nabl├şzku bli┼ż┼íie alebo cennej┼íie ciele. Ak by toti┼ż dali Dag'Karu pr├şle┼żitos┼ą spusti┼ą pa─żbu, zasypal by ich neuverite─żn├Żm mno┼żstvom rakiet. Sila jeho salvy je tak├í ve─żk├í, ┼że ┼żiadna lo─Ć flotily akejko─żvek mlad┼íej rasy nem├┤┼że ignorova┼ą jeho ni─Źiv├Ż potenci├íl.
Hliadkovac├ş kr├ş┼żnik G'Karith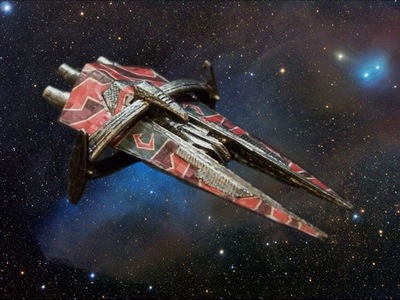 Tieto ─żahk├ę bojov├ę lode m├┤┼żu by┼ą ve─żmi nebezpe─Źn├ę, ak sa pohybuj├║ v dvojici alebo trojici. Ich nosnos┼ą st├şha─Źiek a n├íle┼żit├í zbra┼łov├í v├Żbava ho predur─Źuj├║ na hliadkov├ę plavidlo syst├ęmu. V├Ą─Ź┼íina vonkaj┼í├şch svetov Narnsk├ęho re┼żimu m├í aspo┼ł jeden G'Karith v obrane, dokonca aj ke─Ć sa obrann├í skupina men├ş alebo je poslan├í na nejak├║ misiu. Takticky navrhnut├Ż kr├ş┼żnik sa m├┤┼że postavi┼ą aj ┼ąa┼ż┼í├şm lodiam, ale v takom boji nevydr┼ż├ş pr├şli┼í dlho.
Stredn├Ż st├şha─Ź Gorith
St├şha─Źk strednej triedy s dlh├Żm slu┼żobn├Żm z├íznamom. Gorith sa pou┼ż├şva len preto, lebo st├şha─Źky triedy Frazi s├║ ove─ża drah┼íie na ├║dr┼żbu a nestali sa ┼ítandardom na ka┼żdej lodi flotily. Hoci je Gorith sol├şdne navrhnut├Ż a dostato─Źne schopn├Ż splni┼ą rozkazy, Frazi maj├║ v├Ą─Ź┼íiu palebn├║ silu a takmer sa mu m├┤┼żu rovna┼ą v celkovej r├Żchlosti. Oproti tomu Gorith exceluje v man├ęvrovate─żnosti. Ke─Ć sa ocitne vo─Źi svojmu naj─Źastej┼íiemu protivn├şkovi - centaurskej st├şha─Źke Sentri - prekon├íva ju Gorith takmer v ka┼żdej oblasti.
├Üto─Źn├Ż kr├ş┼żnik G'Quonth
Smrtiaca varianta kr├ş┼żnika G'Quan postaven├í na rovnakom trupe je navrhnut├í ─Źisto kv├┤li palebnej sile. Jej hang├íry boli odstr├ínen├ę aby uvo─żnili miesto gener├ítorom potrebn├Żm na nap├íjanie dvoch dodato─Źn├Żch hlavn├Żch laserov├Żch kan├│nov. S vymenen├Żmi i├│nov├Żmi torp├ędami za energetick├ę m├şny m├┤┼że by┼ą ├║vodn├í pa─żba G'Quontha zni─Źuj├║ca pre takmer ka┼żd├ęho protivn├şka v jeho l├şnii pa─żby. Jeho v├Żskyt v narnskej flotile nie je be┼żn├Ż, hlavne kv├┤li cene dodato─Źnej v├Żbavy a tie┼ż kv├┤li faktu, ┼że nem├┤┼że v ─Źase n├║dze sl├║┼żi┼ą ako nosi─Ź.
Bojov├Ż torp├ędoborec Ka'Toc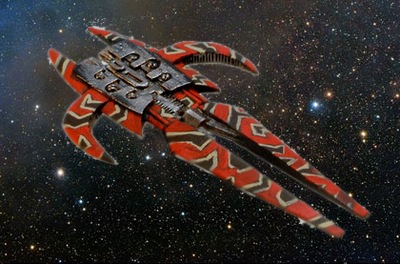 Smrtiace plavidlo postaven├ę za jedin├Żm ├║─Źelom - n├íjs┼ą a zni─Źi┼ą nepriate─żsk├ę lode. Nie je to nosi─Ź, ani eskortn├í a ani transportn├í lo─Ć, hoci m├┤┼że do ur─Źitej miery zasta┼ą v┼íetky tieto ├║lohy. Najlep┼íie je v tom, kv├┤li ─Źomu ho postavili, Kha'Ri to vie a posielaho na tak├ęho ├║lohy tak ─Źasto ako je to mo┼żn├ę. M├┤┼że nies┼ą v pr├şpade n├║dze ┼íes┼ą st├şha─Źiek, zosta┼ą vo ve─żkom boji dostato─Źne dlho a st├íle m├í ┼íancu pre┼żi┼ą ho. Ale jeho nedostatkom je nepr├ştomnos┼ą skokov├Żch motorov, ─Źo ho rob├ş v ot├ízke mobility z├ívisl├Żm na ostatn├Żch lodiach alebo skokov├Żch br├ínach.
Torp├ędoborec Rongoth
Torp├ędoborec Rongoth je cennou s├║─Źas┼ąou taktickej flotily Narnsk├ęho re┼żimu kv├┤li jeho ┼ąa┼żkej v├Żzbroji a efekt├şvnosti, s akou pln├ş svoje prim├írne ├║lohy. M├í dlh├║ hist├│riu spo─żahlivej slu┼żby a hoci dizajn zastar├íva, k zastaral├ęmu m├í st├íle ─Ćaleko. Jeho trup bol od jeho nasadenia sk├║┼íobn├Żm pre mnoho zbra┼łov├Żch syst├ęmov, ale jeho origin├ílne usporiadanie sa nezmenilo. Kha'Ri nemen├ş ├║spe┼ín├ę kombin├ície a Rongoth sa osved─Źil v stovk├ích bojov.
Policajn├Ż ─Źln Sho'Kos
Ve─żmi efekt├şvne ─żahk├ę prieskumn├ę plavidlo vybaven├ę silnou senzorovou v├Żbavou. Je jedn├Żm z najlep┼í├şch pozorovac├şch lod├ş narnskej flotily. Nane┼í┼ąastie ─żahk├ę pancierovanie a zbrane robia z Sho'Kos ─żahk├Ż cie─ż pre nepriate─żsk├ę lode a musia by┼ą preto v┼żdy dobre chr├ínen├ę. Preto je pre ne ve─żmi riskantn├ę operova┼ą osamote. Ich dizajn je preto predur─Źen├Ż na ─żahk├ę vyu┼ż├şvanie a neust├íle testovanie vylep┼íen├ş.
Obrann├Ż satelit T'Gan
Tento orbit├ílny satelit je be┼żne pou┼ż├şvan├Ż na zablokovan├Żch plan├ęt├ích alebo men┼í├şch z├íklad┼ł├ích s malou strategickou hodnotou. Satelit m├┤┼że by┼ą nastaven├Ż na automatick├ę sledovanie a nap├ídanie cie─żov, ktor├ę neodpovedaj├║ na pozdrav bezpe─Źnostn├Żm k├│dom. Za norm├ílnych okolnost├ş s├║ satelity riaden├ę jedin├Żm narnsk├Żm vojakom na zaistenie hladk├ęho fungovania. Toto zaradenie je pova┼żovan├ę za najhor┼íiu slu┼żbu jedinca, ak├║ mo┼żno dosta┼ą a mnoho vojakov ju pova┼żuje za ur├í┼żku ich cti a schopnost├ş.
Fregata Thentus
V┼żdy spo─żahliv├í fregata triedy Thentus sl├║┼żi Narnom u┼ż od d├┤b, kedy za─Źali objavova┼ą vesm├şr. Bola postaven├í, aby nahradila prv├ę bojov├ę lode. Je jednou z prv├Żch, ktor├í pou┼ż├şva centaursk├║ technol├│giu bez jej umiestnenia do centaursk├ęho trupu. Zna─Źne vylep┼íen├í oproti lodiam, ktor├ę nahradila, Thentus je u┼ż zastaral├í a m├ílokedy sa pou┼ż├şva na nie─Źo v├í┼żnej┼íie ne┼ż podpora v boji proti st├şha─Źk├ím alebo hliadkovanie v men┼í├şch s├║stav├ích. M├í svoju ├║lohu aj v ozajstnom boji, ale len ako palebn├í podpora alebo ─Źistenie.
Dia─żkov├Ż torp├ędoborec Var'Nic
Prav├í loveck├í/zabij├ícka lo─Ć narnskej flotily. Torp├ędoborec triedy Var'Nic je smrtiaca lo─Ć so schopnos┼ąou sko─Źi┼ą do syst├ęmu, r├Żchlo n├íjs┼ą cie─żov├║ bojov├║ lo─Ć a napadn├║┼ą ju dostato─Źnou palebnou silou v ka┼żdom taktickom oh─żade. V boji jeden na jedn├ęho m├┤┼że Var'Nic re├ílne a spo─żahlivo porazi┼ą lo─Ć rovnakej triedy alebo men┼íiu a sp├┤sobi┼ą dostato─Źn├ę po┼íkodenie v├Ą─Ź┼íej lodi. Efekt├şvnej┼íia ne┼ż ostatn├ę lode, Var'Nic je skalpelom Re┼żimu.
↑ Hore