Dreadnought triedy Star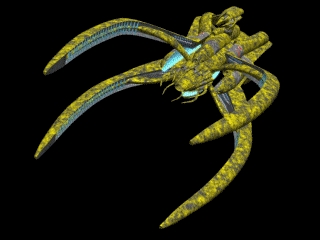 Trieda:
Star Dreadnought
Typ:
dreadnought
D─║┼żka:
1330 m
Hmotnos┼ą:
neznáma
Posádka:
neznáma
Vojaci:
nezn├ímy po─Źet
Po─Źet st├şha─Źiek:
40
Energetick├Ż zdroj:
hyperpriestorov├Ż ventil
V├Żdr┼ż:
nekone─Źn├í
Zbra┼łov├Ż syst├ęm:
1 vorlonsk├Ż l├║─Ź smrti
nieko─żko bleskov├Żch diel
Obrann├Ż syst├ęm:
vorlonsk├Ż biopancier
vorlonsk├ę ┼ít├şty
vle─Źn├ę l├║─Źe
vorlonsk├ę ru┼íi─Źky senzorov
Jedna z najv├Ą─Ź┼í├şch a najmocnej┼í├şch lod├ş viden├Żch vo vorlonskom vojnovom lo─Ćstve, Star Dreadnought bola prevl├ídaj├║cou vojnovou lo─Ćou Vorlonsk├ęho imp├ęria. Zd├í sa, ┼że t├íto trieda lod├ş ma palebn├║ silu rovn├║ alebo v├Ą─Ź┼íiu ne┼ż ┼ítandardn├Ż BattleCrab Tie┼łov. Z├íznamy poukazuj├║ na to, ┼że Star Dreadnought m├┤┼że zni─Źi┼ą svoj n├íprotivok Tie┼łov jedin├Żm v├Żstrelom.
Ve─żmi podobn├ę BattleCrabom, vorlonsk├ę lode s├║ organick├ęho p├┤vodu a skuto─Źne nezastavite─żn├ę. Ale na rozdiel od lod├ş Tie┼łov nepou┼ż├şvaj├║ ┼żiv├ę organizmy ako centr├ílnu riadiacu jednotku lod├ş, pripom├şnaj├║c tak, ┼że biotechnol├│gia Vorlonov i Tie┼łov, i ke─Ć podobn├í, je podstatne in├í.
Hoci sa zd├í, ┼że vorlonsk├í technol├│gia je na rovnakej ├║rovni ako technol├│gia Tie┼łov, je zn├íme, ┼że v mnoh├Żch pr├şpadoch sa vorlonsk├í technol├│gia jav├ş ako menej vyspel├í. Napr├şklad, Vorloni pou┼ż├şvaj├║ gravimetrick├Ż/hyper vesm├şrny pohonn├Ż syst├ęm na poh├í┼łanie svojich lod├ş v norm├ílnom(re├ílnom) priestore, takisto ako Tiene. Na druh├║ stranu vyu┼ż├şvaj├║ Vorloni tie┼ż nejak├Ż druh antihmotov├Żch motorov, syst├ęm pohonu, ktor├Ż Tiene kompletne opustili. Vorlonsk├í organick├í technol├│gia sa zd├í by┼ą menej vyspelou, ak ju porovn├íme s technol├│giou Tie┼łov, a navy┼íe to vyzer├í tak, ┼że je kon┼ítruovan├í a teda nevyrast├í prirodzene.
Je ┼ąa┼żk├ę poveda┼ą, ─Źi maj├║ niektor├ę (alebo v┼íetky) tieto technologick├ę paradoxy nejak├║ od├┤vodnite─żnos┼ą. Je v┼íeobecne zn├íme, ┼że Vorloni pou┼ż├şvaj├║ ve─żk├ę mno┼żstvo nepotrebnej technol├│gie a zastaran├║ technol├│giu jednoducho skr├Żvaj├║ pred mlad┼í├şmi rasami, aby nik nevedel ak├ş s├║ vyspel├ş. Tie┼ż to dod├íva siln├║ vierohodnos┼ą anal├│gii "Nezabudni, ─Źo u┼ż vie┼í".
[Ve─żkos┼ą prevzat├í z videohry B5]
↑ Hore