V├Żskumn├í lo─Ć Explorer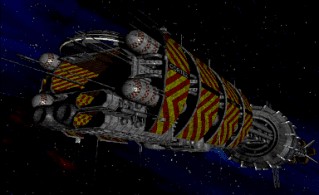 Trieda:
Explorer
Typ:
v├Żskumn├í/kon┼ítruk─Źn├í lo─Ć
D─║┼żka:
6,103 metrov
Hmotnos┼ą:
37,5 mili├│nov metrick├Żch ton
Posádka:
2400
Vojaci:
N/A
Po─Źet st├şha─Źiek:
16 st├şha─Źiek Starfury
Energetick├Ż zdroj:
8 f├║znych reaktorov
V├Żdr┼ż:
2 roky
Zbra┼łov├Ż syst├ęm:
28 pulzn├Żch kan├│nov
Obrann├Ż syst├ęm:
8 m pancierovan├ęho trupu
62 energetick├Żch projektorov obrannej siete Mk. I
Plavidl├í triedy Explorer s├║ kombin├íciou plavidiel pre vedeck├Ż v├Żskum/stavbu skokov├Żch br├ín, venuj├║ce sa pokojn├ęmu prieskumu vesm├şru a roz┼íirovaniu Pozemskej aliancie. Meraj├║ce pribli┼żne 6,1 kilometrov* (3,8 m├ş─ż) po d─║┼żke, je plavidlo triedy Explorer najv├Ą─Ź┼í├şm plavidlom Pozemsk├ęho lo─Ćstva.
Hoci p├┤sob├ş v├Żhradne pod arm├ídou, pos├ídku v┼íetk├Żch lod├ş triedy Explorer tvor├ş v├Żhradne civiln├Ż person├íl zlo┼żen├Ż hlavne z civiln├Żch vedcov, v├Żskumn├şkov a technikov/pracovnej pos├ídky na kon┼ítrukciu skokov├Żch br├ín.
Prvoradou ├║lohou v┼íetk├Żch plavidiel tejto triedy je v├Żskum a prieskum, a tak maj├║ len primern├║ obranu zahr┼łuj├║cu s├ęriu obrann├Żch pulzn├Żch kan├│nov a dve letky Starfury. To rob├ş z plavidiel Explorer ve─żk├ę, zle chr├ínen├ę ciele, ale ich mas├şvne skokov├ę motory a siln├ę f├║zne reaktory im dovo─żuj├║ r├Żchlo unikn├║┼ą pred nebezpe─Źn├Żmi situ├íciami.
Plavidl├í triedy Explorer tr├ívia v├Ą─Ź┼íinu svojho ─Źasu prieskumom "Okraja", nezmapovan├Żch a nepresk├║man├Żch oblast├ş vesm├şru, na ktor├ę si nerob├ş n├írok ┼żiadna zo zn├ímych r├ís. V├Żsledkom toho je, ┼że lode Explorer s├║ v├Ą─Ź┼íinou prv├ę, ktor├ę nadvia┼żu kontakt s plavidlami nezn├ímych mimozemsk├Żch r├ís. Toto privil├ęgium a bremeno nie je bran├ę na ─żahk├║ v├íhu, tak┼że aby sa mal├ę nedorozumenie nezmenilo v trag├ędiu, s├║ ─Źlenovia pos├ídky a veliaci d├┤stojn├şci ve─żmi sk├║sen├ş v proced├║rach prv├ęho kontaktu.
Vzh─żadom k dominantn├ęmu postaveniu plavidiel triedy Explorer na poli prieskumu, s├║ tieto lode vybavovan├ę posledn├Żmi novinkami v senzorovej a komunika─Źnej technol├│gii, ─Źo im dovo─żuje ove─ża jednoduch┼í├ş kontakt a komunik├íciu s in├Żmi mimozemsk├Żmi druhmi. To vo v├Żslednom efekte znamen├í, ┼że stredne ve─żk├║ plan├ętu dok├í┼że plavidlo Explorer zmapova┼ą a presk├║ma┼ą v priebehu nieko─żk├Żch t├Ż┼żd┼łov, pokladaj├║c tak z├íklad pre detailnej┼í├ş prieskum.
Hoci maj├║ Explorery viac ne┼ż dostatok energie ku skoku do hyperpriestoru a ├şs┼ą kamko─żvek chc├║, v├Ą─Ź┼íiu ─Źas┼ą hmotnosti tvoria n├íhradn├ę s├║─Źiastky potrebn├ę na stavbu nov├Żch skokov├Żch br├ín. Nepretr┼żit├í v├Żstavba a predaj skokov├Żch br├ín znamen├í pre lode Pozemskej aliancie a komer─Źn├ę lode jednoduch┼í├ş pr├şstup k nov├Żm oblastiam vesm├şru. To zais┼ąuje Pozemskej aliancii r├Żchle a efekt├şvne cesty ako r├Żchlo roz┼í├şri┼ą oblas┼ą ─żudsk├ęho vplyvu a tak z├şskava┼ą cenn├ę zdroje a pr├şjem, ke─Ć Zem spoplat┼łuje vl├ídam ostatn├Żch r├ís pou┼ż├şvanie skokov├Żch br├ín aliancie.
[*Ve─żkos┼ą zalo┼żen├í na porovnan├ş s Babylonom 5.]
↑ Hore