├Üto─Źn├Ż kr├ş┼żnik T'Loth
Trieda:
T'loth
Typ:
├║to─Źn├Ż kr├ş┼żnik
D─║┼żka:
1,050 metrov
Hmotnos┼ą:
10.4 mili├│nov metrick├Żch ton
Posádka:
160
Vojaci:
4,000
Po─Źet st├şha─Źiek:
8 triedy Frazi
Energetick├Ż zdroj:
2 f├║zne reaktory
V├Żdr┼ż:
8 mesiacov
Zbra┼łov├Ż syst├ęm:
2 plazmov├ę kan├│ny
4 stredn├ę pulzn├ę kan├│ny
6 ─żahk├Żch pulzn├Żch kan├│nov
f├║zne rakety [2 odpa─żova─Źe]
Obrann├Ż syst├ęm:
4 - 6 m pancierovan├ęho trupu
elektromagnetická obrana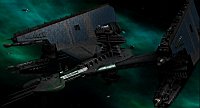 ├Üto─Źn├Ż kr├ş┼żnik triedy T'Loth bol jednou z prv├Żch bojov├Żch lod├ş Narnsk├ęho re┼żimu schopn├ęho skoku. Pribli┼żne 1,050 metrov dlh├Ż kr├ş┼żnik je schopn├Ż doru─Źi┼ą do bojovej z├│ny ve─żk├Ż kontingent vojakov. T├íto schopnos┼ą m├í v┼íak svoju cenu, ke─Ć┼że lode triedy T'Loth maj├║ len polovicu palebnej sily v porovnan├ş napr├şklad s ┼ąa┼żk├Żm kr├ş┼żnikom triedy Hyperion.
Ako v┼íetky narnsk├ę lode ani trieda T'Loth nem├í umel├║ gravit├íciu, dokonca ani rota─Źn├║ ─Źas┼ą pre pos├ídku. Je to sp├┤soben├ę hlavne faktom, ┼że Narni str├ícaj├║ kostn├║ hmotu ove─ża pomal┼íie ne┼ż ─żudia.
Hlavn├Ż energetick├Ż zdroj lode pozost├íva z 2 f├║znych reaktorov s v├Żkonom 80,000 Terawattov, ktor├Ż je zalo┼żen├Ż na centaurskom dizajne. Pohon zabezpe─Źuj├║ ┼ítyri i├│nov├ę motory (op├Ą┼ą pod─ża centaursk├ęho dizajnu), ─Źo ─Źin├ş lo─Ć r├Żchlej┼íou a ove─ża lep┼íie ovl├ídate─żnou ne┼ż ┼ąa┼żk├Ż kr├ş┼żnik triedy G'Quan. Motory s├║ zabudovan├ę do dvoch vertik├ílnych kr├şdiel, s dvoma pyl├│nmi, ktor├ę sp├íjaj├║ kr├şdla s hlavnou veliacou gondolou lode. V├Żzbroj sa sklad├í z dvoch plazmov├Żch kan├│nov, ┼ítyroch stredn├Żch pulzn├Żch kan├│nov a ┼íiestich ─żahk├Żch pulzn├Żch kan├│nov.
Ako jedna z prv├Żch gener├íci├ş bojov├Żch lod├ş Narnov, je ├║to─Źn├Ż kr├ş┼żnik T'Loth zmes technol├│gi├ş k├║pen├Żch alebo ukradnut├Żch od tuctu ostatn├Żch r├ís. V├Ą─Ź┼íina technol├│gie lodnej v├Żzbroje poch├ídza z technol├│gie ukradnutej Centaurom. "Skokov├ę motory" a f├║zne reaktory boli z├şskan├ę hlavne obchodom s rasami Ligy nez├ívisl├Żch svetov, modifikovan├ę technol├│giou a d├ítami z├şskan├Żch od centaursk├Żch okupa─Źn├Żch s├şl. To je hlavn├Ż d├┤vod pre nezvy─Źajn├Ż vzh─żad (pod─ża narnsk├Żch ┼ítandardov) tejto lode, ke─Ć┼że takmer ni─Ź nie je origin├ílne.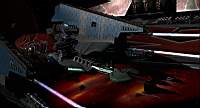 Jednou z hlavn├Żch taktick├Żch slab├şn ├║to─Źn├ęho kr├ş┼żnika triedy T'Loth je jeho senzorov├Ż syst├ęm. Narnsk├ę senzorov├ę pole DV-209 je v skuto─Źnosti trojica r├┤znych senzorov├Żch syst├ęmov k├║pen├Żch od troch r├┤znych r├ís z Ligy nez├ívisl├Żch svetov. Tri senzorov├ę syst├ęmy s├║ ├║plne nekompatibiln├ę, ale ako ka┼żd├║ novoz├şskan├║ technol├│giu, Narni ju sprev├ídzkovali. Senzorov├ę l├║─Źe DV-209 sa daj├║ ─żahko oklama┼ą, ─Źo malo za n├ísledok stratu nieko─żk├Żch ├║to─Źn├Żch kr├ş┼żnikov v hyperpriestore alebo zachytenie falo┼ín├Żch cie─żov v skuto─Źnom priestore. Okrem tohto probl├ęmu vy┼żaduje DV-209 prec├şznu ├║dr┼żbu, ak m├í zosta┼ą syst├ęm prev├ídzkyschopn├Ż.
Jedn├Żm z najhor┼í├şch pr├şpadov straty lode triedy T'Loth v hyperpriestore bol incident, ktor├Ż sa odohral po─Źas Dilgarskej vojny, ke─Ć sa flotila lod├ş triedy T'Loth mala z├║─Źastni┼ą ve─żkej ofenz├şvy proti Dilgarom. Cel├í letka sa stratila v hyperpriestore a odvtedy o nich nikto nepo─Źul. N├ísledkom tejto straty bola bitka prehran├í a narnsk├í flotila aj flotila Ligy boli kompletne zni─Źen├ę.
↑ Hore